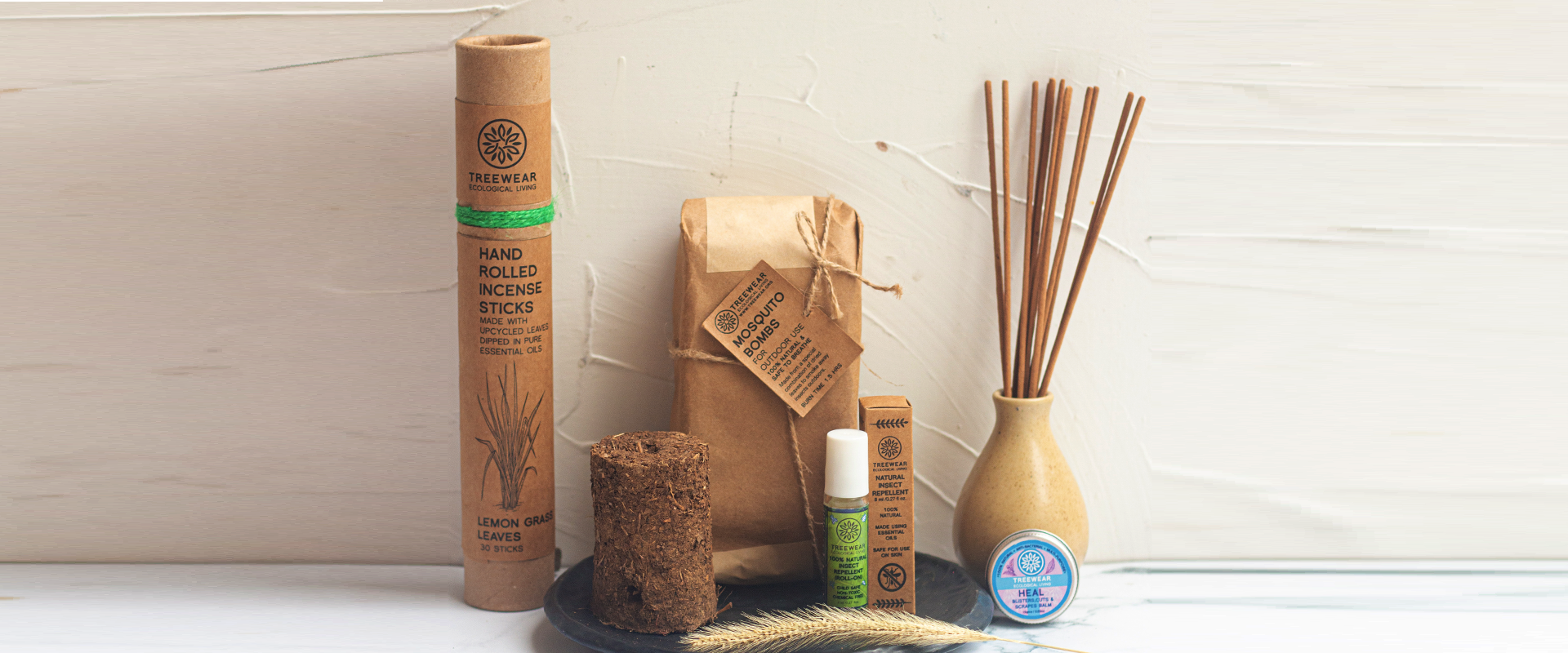 An Eco-friendly and 100% Natural insect repellent kit designed to keep you and your loved ones safe from small Insects and Mosquitos. Harnessing the properties of insect-repellent plants and herbs, we have created a handy combination of products to help you deal with annoying mosquitos without harmful synthesised or petroleum based ingredients.
THIS KIT CONTAINS 4 Mosquito Repelling PRODUCTS:
MOTHER NATURE'S
BEST DEFENCE
Our Wellness Kit contains 4 Insect Repellent essentials product packed with the healing power of Nature.
A 2 Pack of TreeWear Insect Repellent Roll-On (10ml each) - With the power of Neem, Eucalyptus, Citronella, Lemongrass, Rosemary & Clove, our proprietary blend uses essential oils that are well-known to keep those pesky insects at bay, minus the harmful & toxic ingredients such as DEET, Transfluthrin etc., which are found in other commonly used brands in India. Safe to apply directly onto the skin.
TreeWear Mosquito Bombs (pack of 3) - The ideal solution for semi-outdoor areas like balconies, patios, courtyards, etc. during dawn or dusk. These Mosquito Bombs create a dense smoke from 100% Natural leaves, husk, and bark keeping away mosquitos and small bugs without any harmful additives found commonly in synthetic coils and diffusers.
Heal Balm (15gms) - A combination of anti-septic and anti-bacterial essential oils makes this balm a great companion to soothe and heal insect bites. It can also be used for small cuts, scrapes, and blisters.
Hand-Rolled Incense Sticks (40 sticks) - A line of premium flower-based incense sticks. An eco-friendly solution, these premium incense sticks are produced out of flower waste and are hand-rolled by specially-abled people and women. Available in Lemongrass and Lavender

ALL ROUND PROTECTION FROM MOSQUITOS

100% NATURAL SMOKE. SAFE TO BREATHE

SKIN SAFE PRODUCTS FOR ADULTS & KIDS

POST BITE CARE & APPLICATION
100% NATuRAL
NO SYNTHETIC ADDITIVES
KEY BENEFITS OF THE WELLNESS KIT

All the products in this kit are 100% Natural and made without synthetic compounds like DEET and Transfluthrin which are known to be harmful with regular exposure.
One of the only
Plastic-free solutions for Insect repellents available.
The hand-made Incense sticks and Mosquito bombs have no added fragrances or synthetic compounds making the smoke a lot less harmful to breath than regular coils and diffusers.
100% Natural ingredients in our products means they are safe for use by children and adults alike.
Every Kit equals a tree, to give your purchase a positive environmental impact!


PROUDLY HANDMADE IN INDIA


100% NATURAL INGREIDIENTS