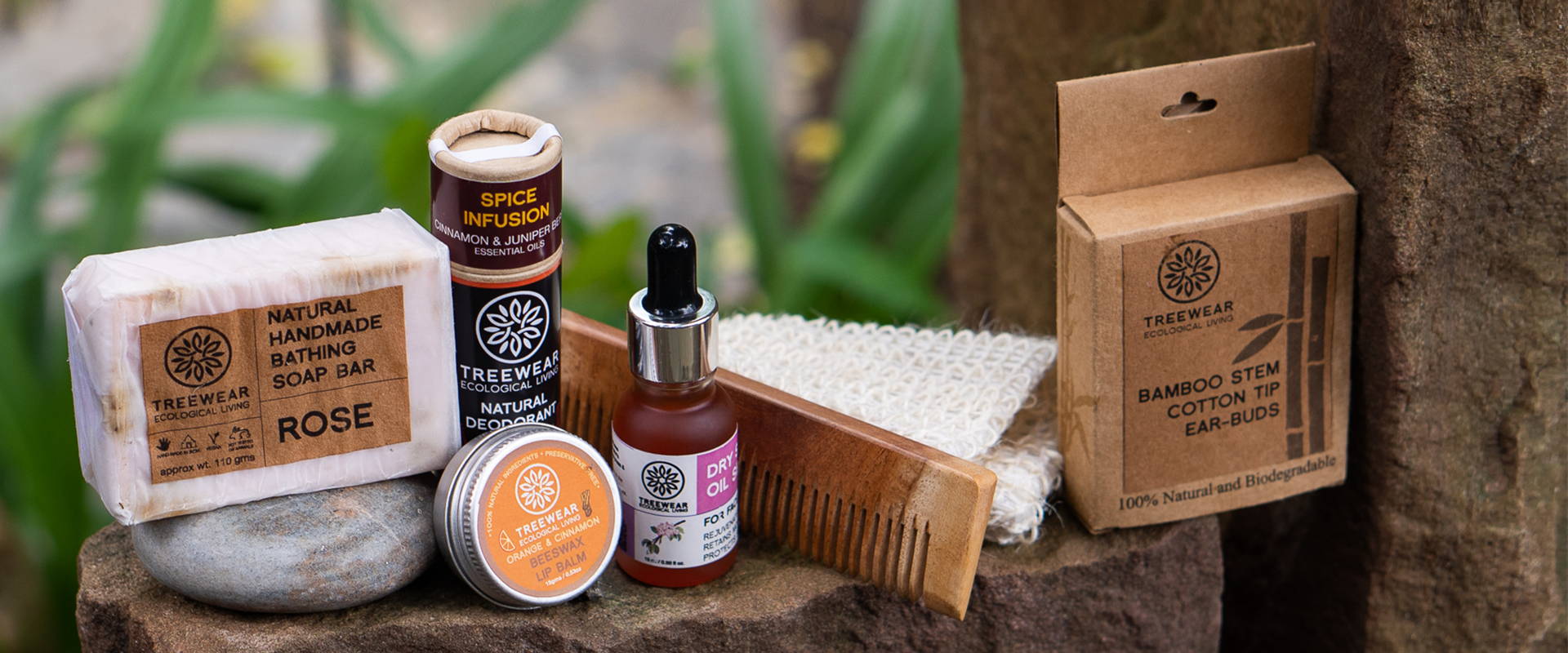 The right combination of Personal Care essentials will keep you feeling fresh and smelling great. Including our award-winning deodorant, along with our hand-crafted premium soaps and lip balms, this kit will help you make the switch to a chemical-free and planet-friendly routine. All products in this kit are made from 100% Natural ingredients and plastic-free packaging, keeping you and the planet in mind.
THIS KIT CONTAINS 8 Personal Care PRODUCTS:
CHEMICAL FREE &
PLASTIC-FREE PERSONAL CARE
ALL YOUR ESSENTIALS IN ONE PLACE
Our Personal Care Kit contains 8 essential products which are 100% Natural and Plastic-free.
1. TreeWear Natural Deodorant Stick uses the anti-bacterial properties of essential oils to keep you odour free without the nasties.
2. Our Beeswax Lip balms are made with a simple Natural formulation to keep your lips soft and supple through every season.
3. The Dry Skin Serum is designed for use on the face and neck. Keep your skin moisturised with this light yet rejuvenating combination of oils.
4. All our soaps are hand pressed and packed with essential oils to keep you smelling fresh without synthetic ingredients.
5. The Ramie Soap Saver is the perfect companion to all your soaps for easy scrubbing/application and to extend the life of your soap bars.
6, 7 & 8. Earbuds, a comb and a toothbrush that help you switch to Plastic-Free essentials from the TreeWear range of products.




NATURAL ESSENTIALS TO
HELP YOU MAKE THE SWITCH
PERSONAL CARE WITH VALUE FOR RESOURCES

With our Personal Care Kit, we aim to make products with you and the Planet in mind. These premium products use the highest quality ingredients and deliver Plastic-free alternatives that are effective as well as value for money!
100% Natural ingredients in our products means they are safe for use for children and adults alike.
Every Kit equals a tree, to give your purchase a positive environmental impact!


PROUDLY HANDMADE IN INDIA


100% NATURAL INGREIDIENTS